From 1994 to 2014, the Department of Homeless Services (DHS) shelter census skyrocketed 115%. At the same time, the city lost hundreds of thousands of affordable or rent stabilized units. This steady decline in housing affordability has driven many low- and middle-income families into homelessness. NYC Homeless services are massively over capacity. People who become homeless are placed in shelters without much regard for what/where is best for them.

To relocate existing people in a shelter to a shelter near their workplace or where they have easy access to their requirements (like a wheelchair, hospital, children's school, etc.). This could internally be achieved by swapping the housing with other shelter people. Due to existing complications in the system, it's practically very difficult to change one you're allotted a shelter home.
Currently, it is unlikely to be successfully transferred between shelters using the official channels due to the following reasons:
• Wait for a space to become available.
• Hope there is no one in immediate need that day to claim the space.
• Hope no other service users already in care is prioritized above you for it.
• Case workers manually looking into the database
Allowing homeless people in shelters to swap their shelters with other person in the shelter in an area closer to their workplace, children's school, or other needs.
In our class of Managing Creative Projects (MS Strategic Design and Management, The New School), John, Kruthika and I were sitting next to each other in the first class and we were asked to work together in a team. The task was to walk around the city and think of problems people face in New York. Out of multiple problems, "Homeless people" struck us hard and we started our project as a team.

• We interviewed Subject Matter Experts to understand various forms of people-in-need (to identify the most suitable communities for this solution) and gain practical insight to inform our product/service design.
• Identified the personas
• We went through multiple reports to get valid data. There were some publications by U.S. Census Bureau that helped us know real stats from 2014.

We interviewed people and researched on existing stories around homeless people from free resources. And found very interesting stories around our research.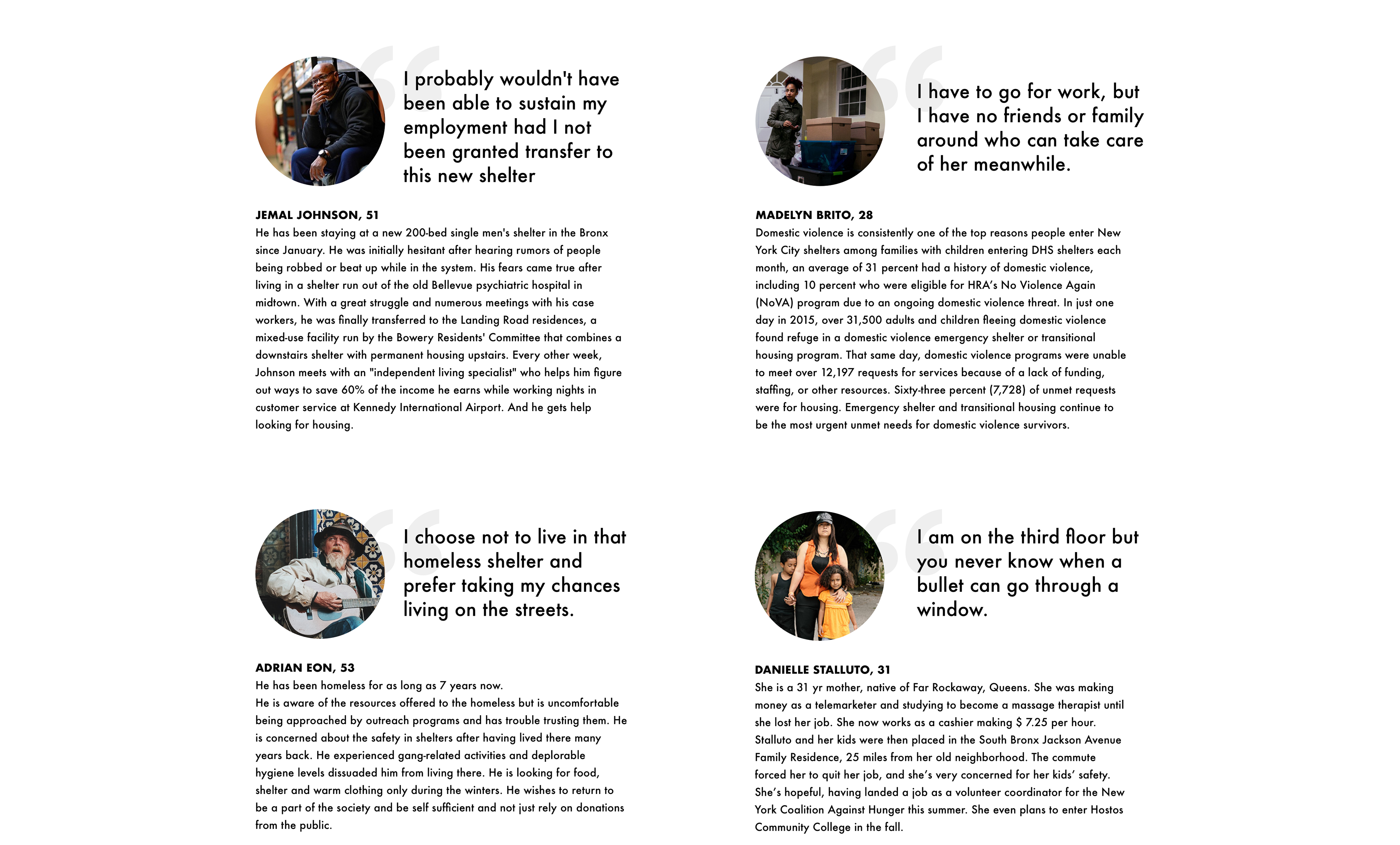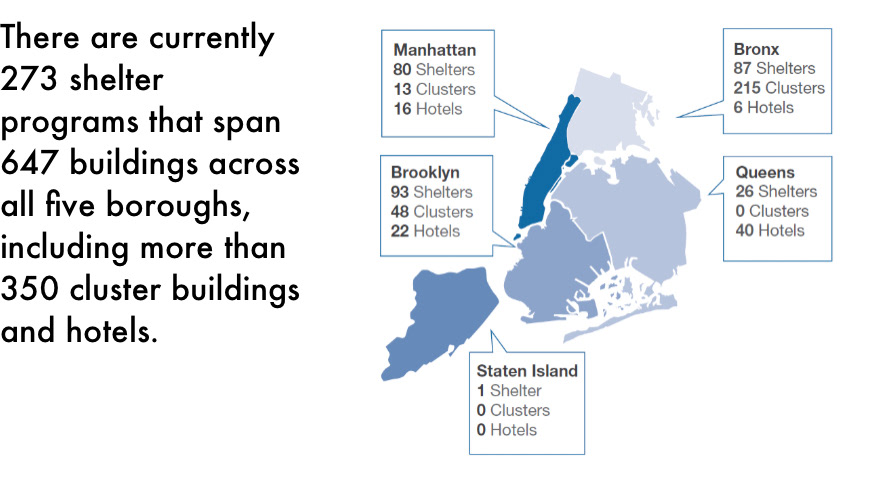 After a lot of pivots throughout the process, we finalized to make Opening Door app that will have homeless people to swap shelters with the people in the same tier. This saved a lot of effort, otherwise which would have required Case Workers to invest their time in finding the same thing manually. This took some initial research as well.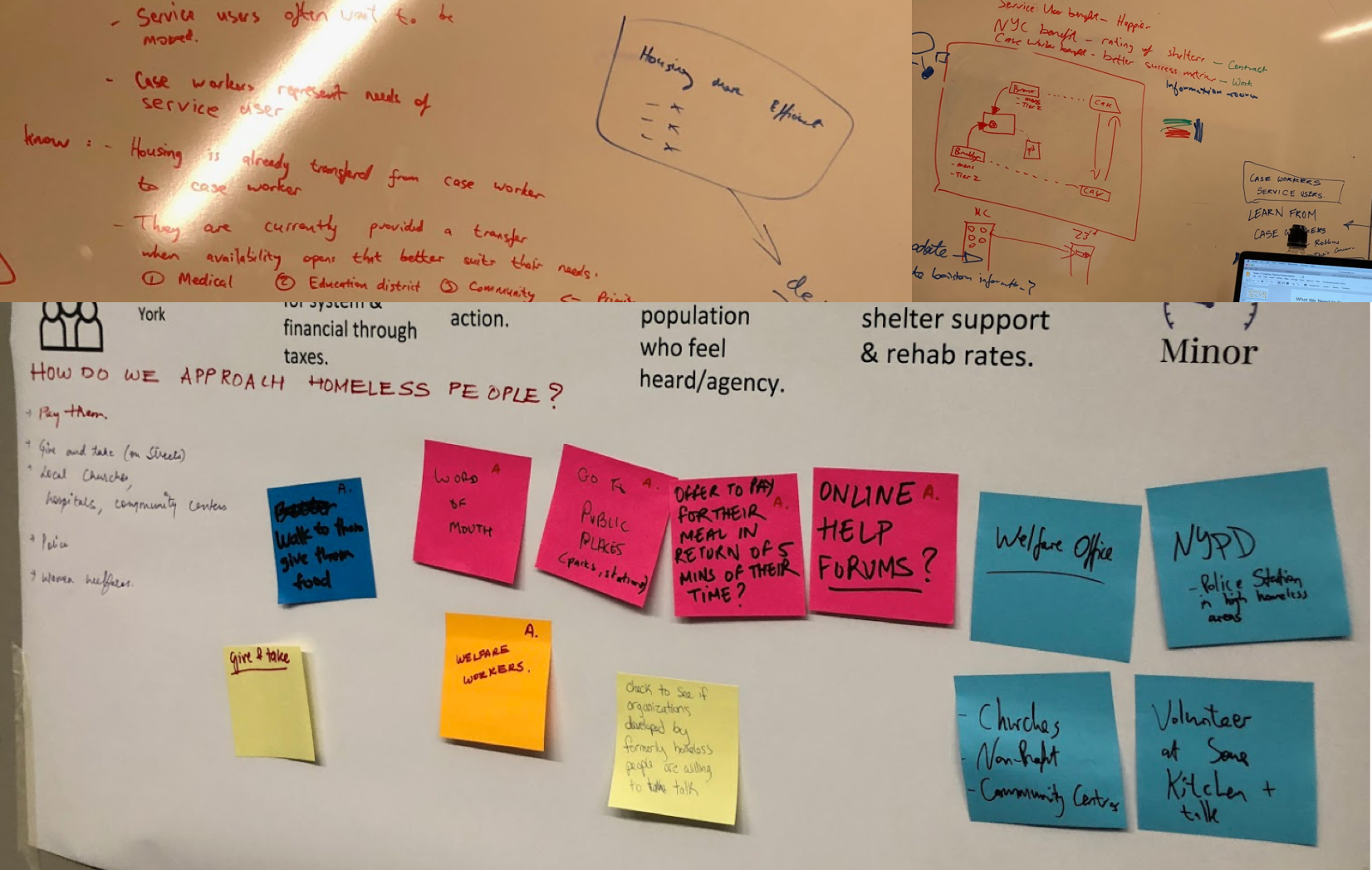 Jane's Empathy Map and Journey Map
Empathy map helped us know deeper thoughts of our user. We could empathize after looking at what they go through. This connection was important to deeply understand them, put ourselves in their shoes and then design with them instead of designing it from outside the ecosystem.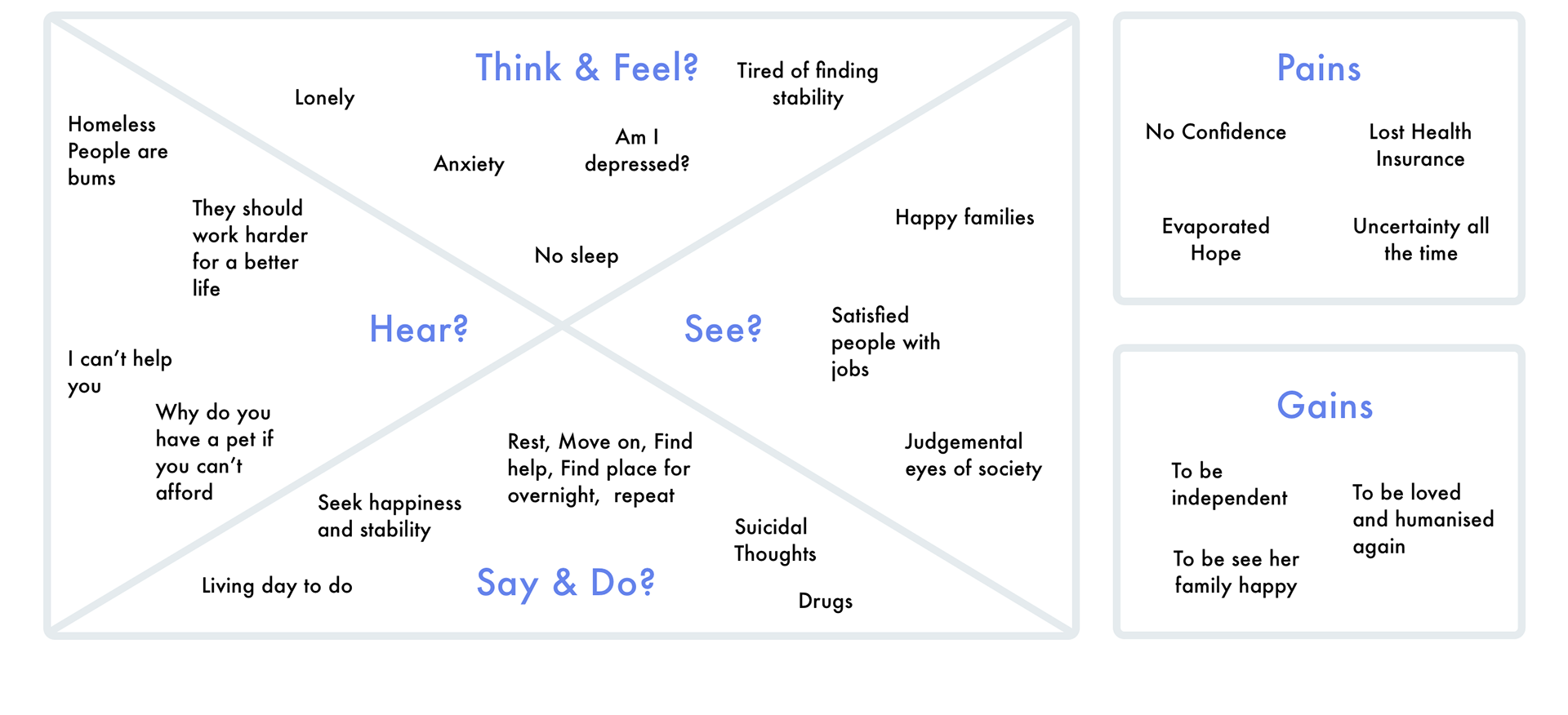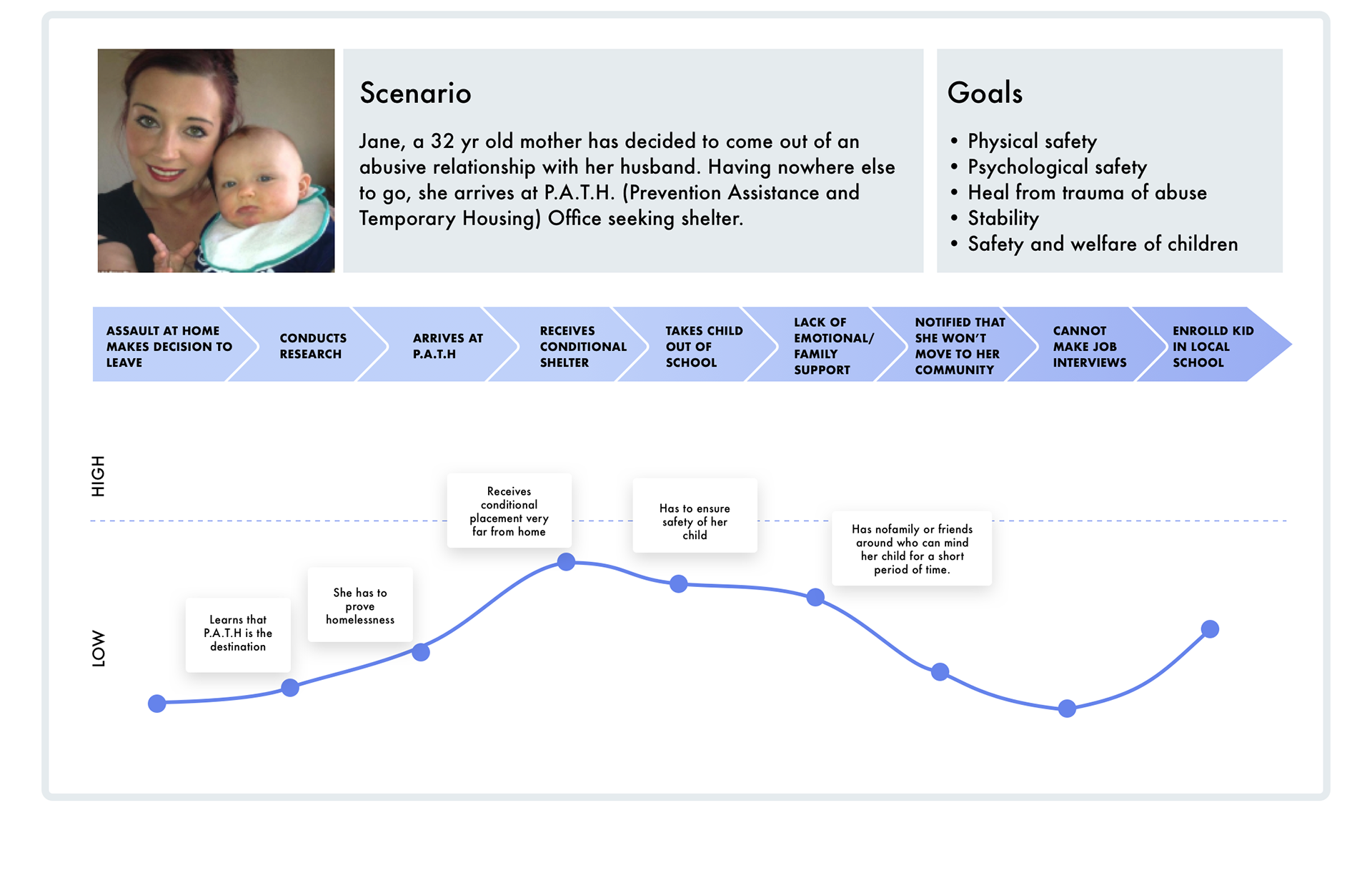 This is the journey of homeless people (client) when  they apply for a shelter, gathered from our research.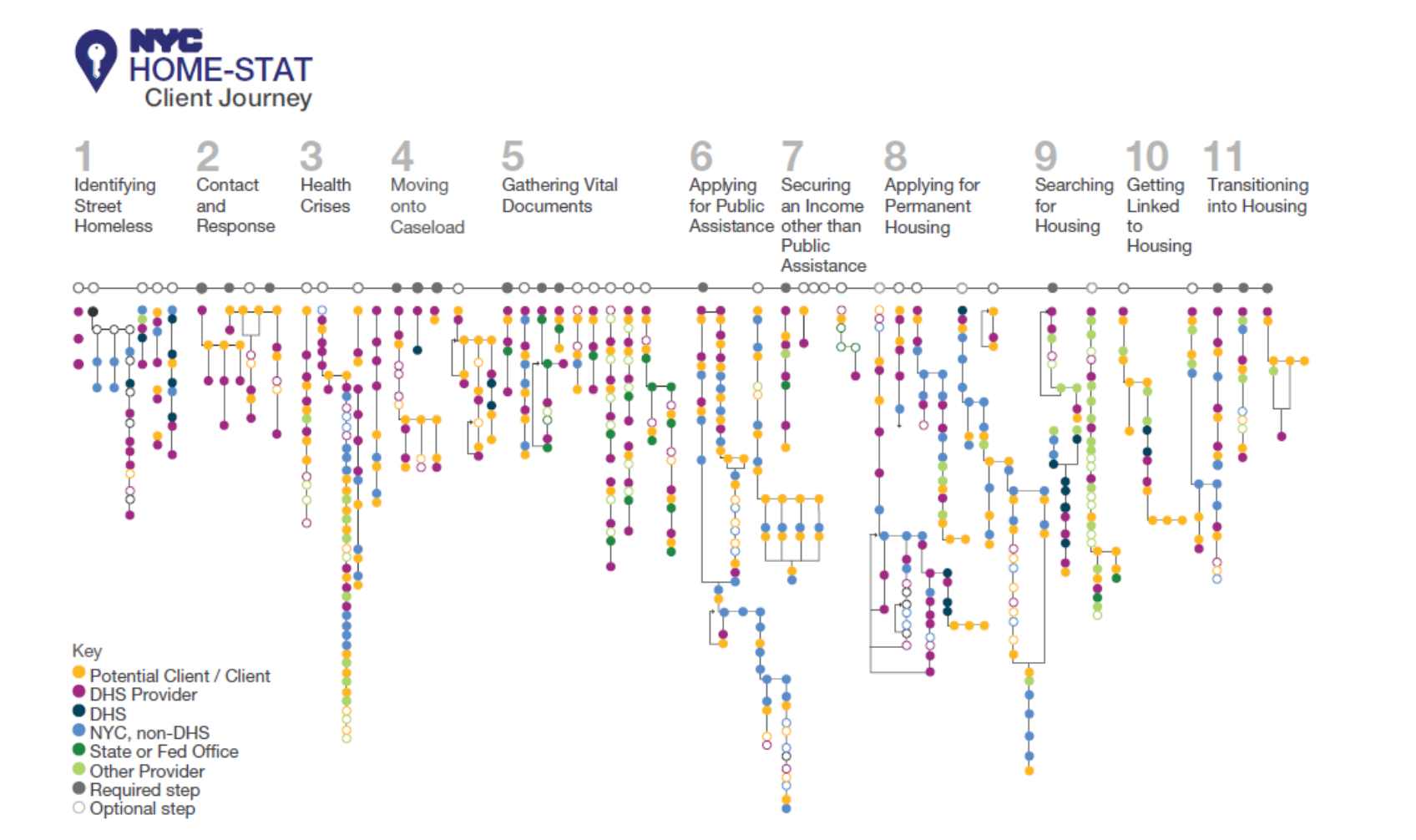 After they get a home, the steps involved to swap shelters is a long process (dotted lines, shown in the system flow diagram below). It is 

connecting service users (homeless people) from one shelter with the service users of other shelter directly without involving case workers. This is resolved by the Opening Door App and made the flow shorter and convenient for users (solid lines).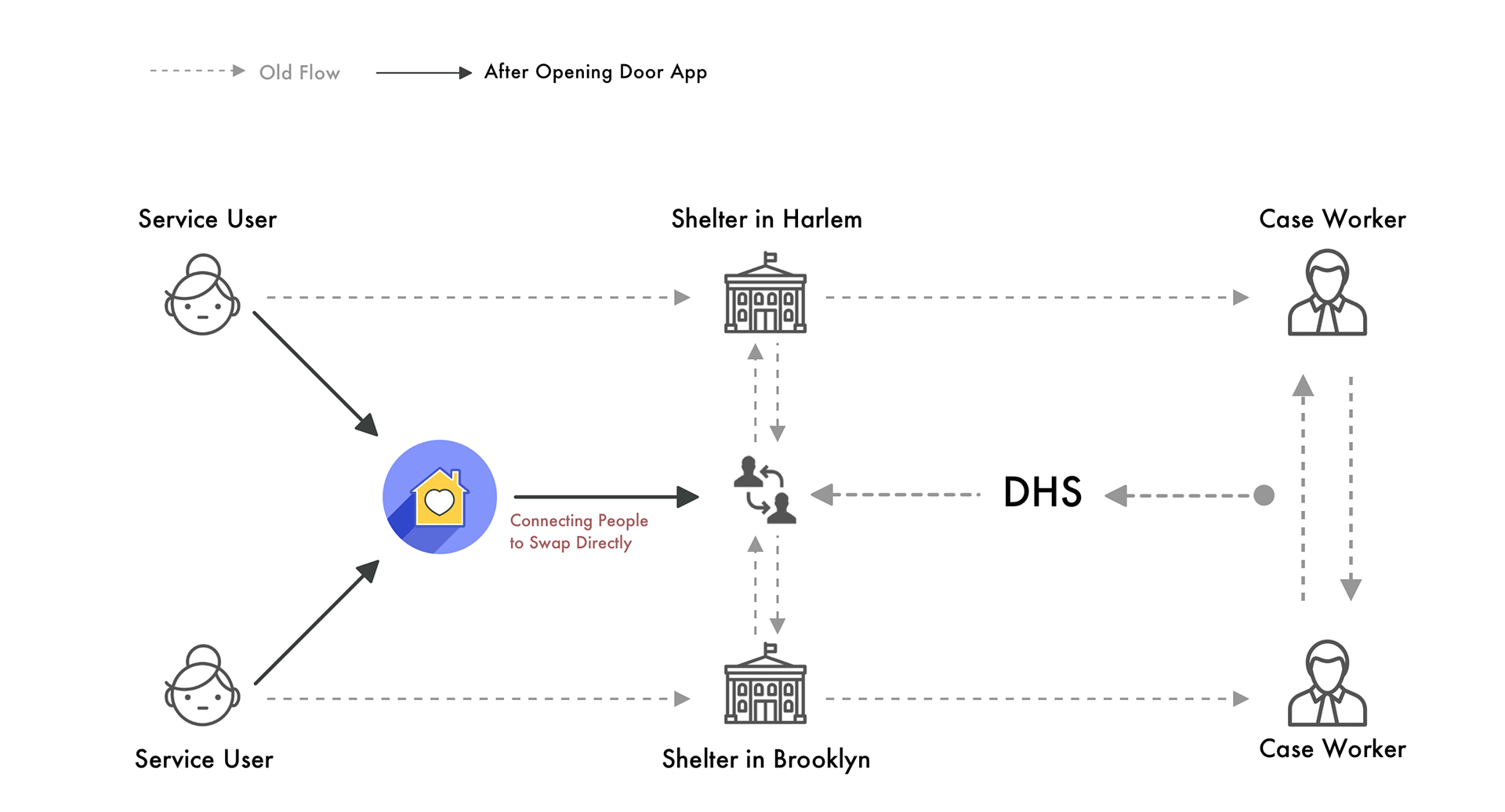 After designing flows and sketches on white board and paper, we came up with low fidelity wireframes. This shows a happy-flow of a user and not an end to end flow. Also, we kept the edge cases for later versions, sticking to MVP for now.

We designed the logo and decided the branding of the app. We went through a couple of mood-boards and shortlisted the colors that contrasted well with the theme. We couldn't get the data of phones our users have - iPhone or Android to begin our MVP. We asked few people in shelter and they had iPhones, so we started our first model with iOS designs.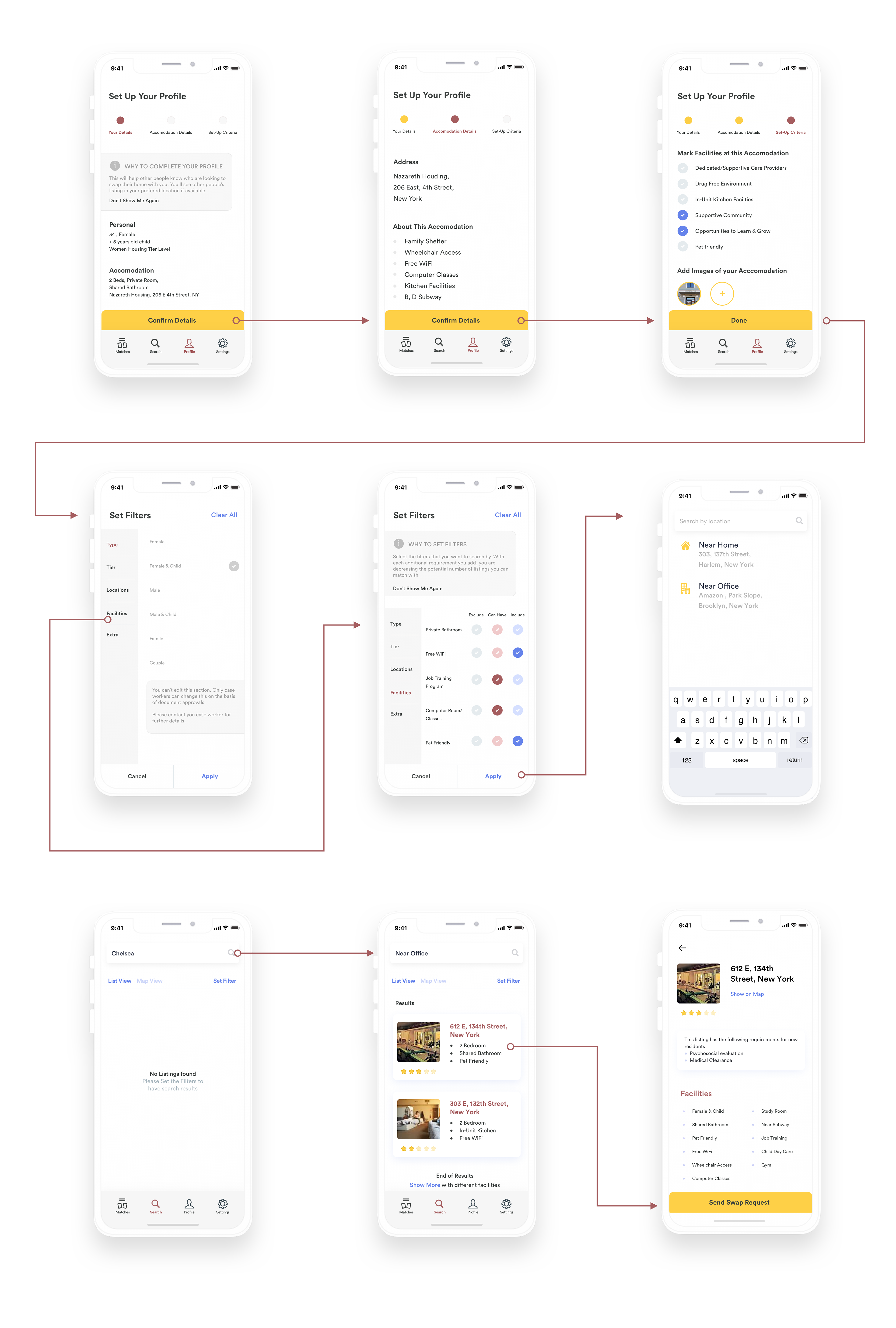 As a team we've walked the streets of NYC, connected with service users, policy designers, care providers, etc. and lobbied officials in NYC Department of Homeless Services. We are working to broaden our activities, launch the Opening Doors platform, expand the platform to other cities and remove the stigma homeless people-in-care face and help rebuild their self-esteem.